Try Olymp Trade Quick Sign up and get extra rewards
(Last Updated On: 17th August 2023)
Limited Period Offer
Activate Bonus
Pocket Option is currently one of the most popular trading platform. This platform has gained a huge amount of trust and success due to its friendliness and its simplicity. Today In this article, I am going to cover How to deposit funds in the Pocket Option trading platform very easily.
Key Takeaways
You need to first verify your Pocket Option account using the approved id issued by the government.
You can start your trading with the Pocket Option with a minimum deposit of $10.
Pocket Option offers multiple rewards for the Pro traders i,e the more amount you deposit the better facilities you get.
The availability of deposit methods depends on your country and region.
You can even deposit funds on Pocket Option using cryptocurrencies like Bitcoin & Ethereum.
How to deposit funds on the Pocket Option | Step-by-Step Guide
Deposit funds on the Pocket Option account are pretty simple & easy. You just need to follow steps given below
Step 1: Verify your identity
The first and foremost step is to verify your identity and make sure to add the legit details. This step is very important so, make sure to use your correct information only. I will also highly recommend you turn on your 2FA (Two Factor Authentication) this will increase your trading account security and will keep your money safe from hackers.
Step 2: Select your preferred Payment method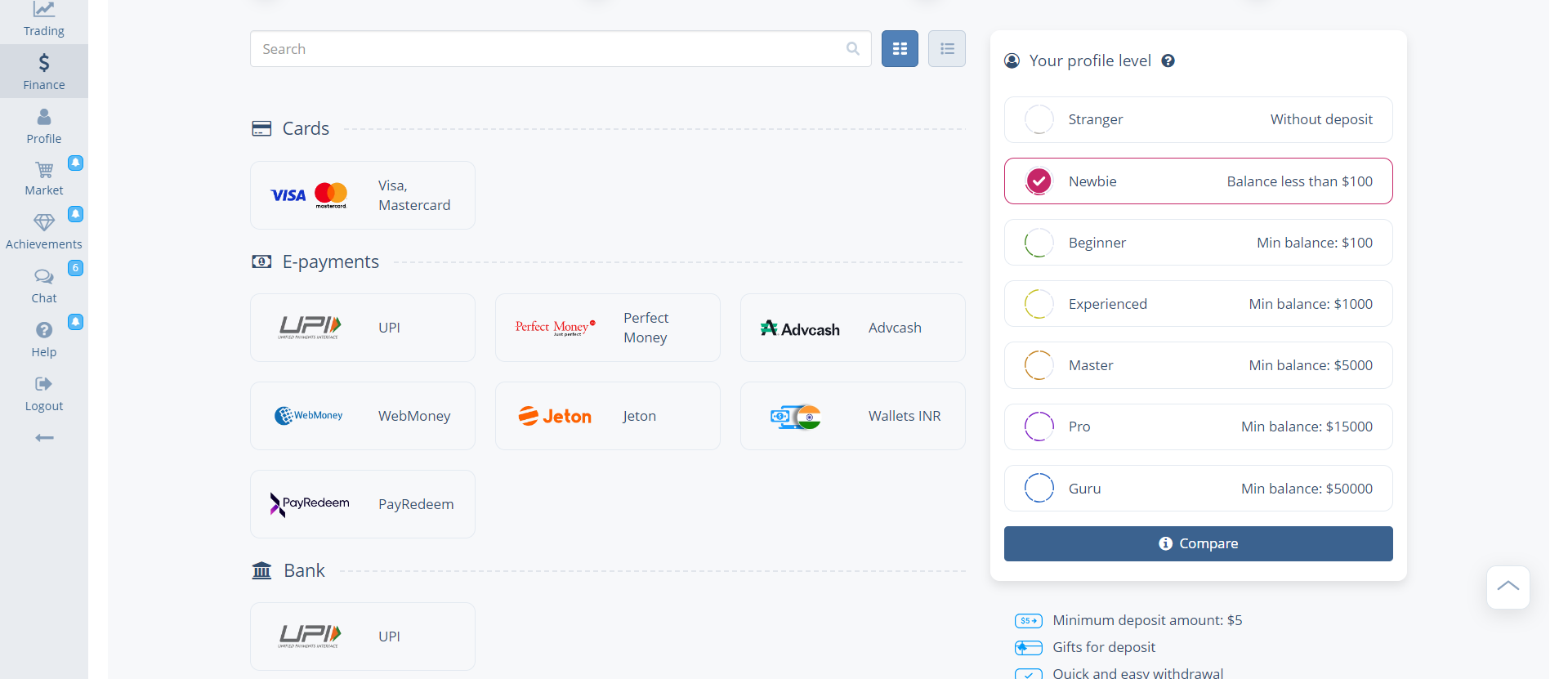 Secondly, find the finance button at the left of the trading page or simply click on the Top up button at the top of the page. Now, select your desired payment method As I said above Pocket Option offers numerous payment methods based on your region.
Step 3: Select your Profile level
The third step is to select your profile level. The profile level depends on the amount you deposit. the higher the profile level the higher the benefits and rewards. The most preferred profile level by the traders is the master account. In order, to activate a Master account you need to deposit at least $5000. In the master account, you will receive multiple benefits such as premium gifts, increase payouts, high-priority support and more.
That's it!! Just confirm the payment the amount will be credited to your account within 5 minutes. So, this is the complete process of the Pocket Option deposit. If you still face any issues you can simply contact the customer support Pocket Option and they will surely help you.