Try Olymp Trade Quick sign up & get extra rewards...
(Last Updated On: 2nd May 2022)
Summer Sale 🔥🔥 !! Join Olymp Trade today & get upto 100% welcome bonus

Signing up is free & takes 5 secs only…
Hello…how are you?
Well, today in this article I am going to talk about one of the most famous candlestick patterns used by traders i.e Bearish Engulfing Pattern.
Just like the Bullish Engulfing pattern, the Bearish Engulfing candlestick is one of the most powerful and accurate candlestick patterns used by traders to make SELL calls.
Keep reading ahead, In this article, I will also share everything about Bearish Engulfing Reversal, & Bearish Engulfing chartlink.
What is Bearish Engulfing Candle?
Bearish Engulfing Candle is two Candlestick Patterns used by traders to find the possible bearish trend for SELL calls.
Just opposite to Bullish Engulfing pattern, if we see a red candle after a big uptrend or bullish trend then we can say that it is a Bearish Engulfing candle.
However, The first candle must be Bullish and the second candle bearish must be engulfing i.e completely covering the first bullish body.
How to find Bearish Engulfing Pattern at Olymp Trade?
To illustrate the Bearish Engulfing candlestick here, I am going to use Olymp Trade.
In case,  you don't have an Olymp Trade click here.
Once you link the link above you will land on Olymp Trade Homepage.
Now, click on register and enter your email, password and click sign up.
Once you have signed up you will land on the Olymp Trade dashboard.
Firstly, Click on the chart button. and select Candlestick from the menu.
Secondly, click on the Indicator button and select RSI from the menu.
That's it !!! the basic setup is over.
How to trade with Bearish Engulfing pattern at Olymp Trade?
Trading Bearish Engulfing pattern is damn very easy.
Here, for better results, I will combine a bearish engulfing pattern with the RSI indicator.
The golden rule of the Bearish Engulfing pattern says:
If we see an overbought level in RSI plus a Bearish engulfing pattern in candlestick then we should take SELL trade.
let's see some examples: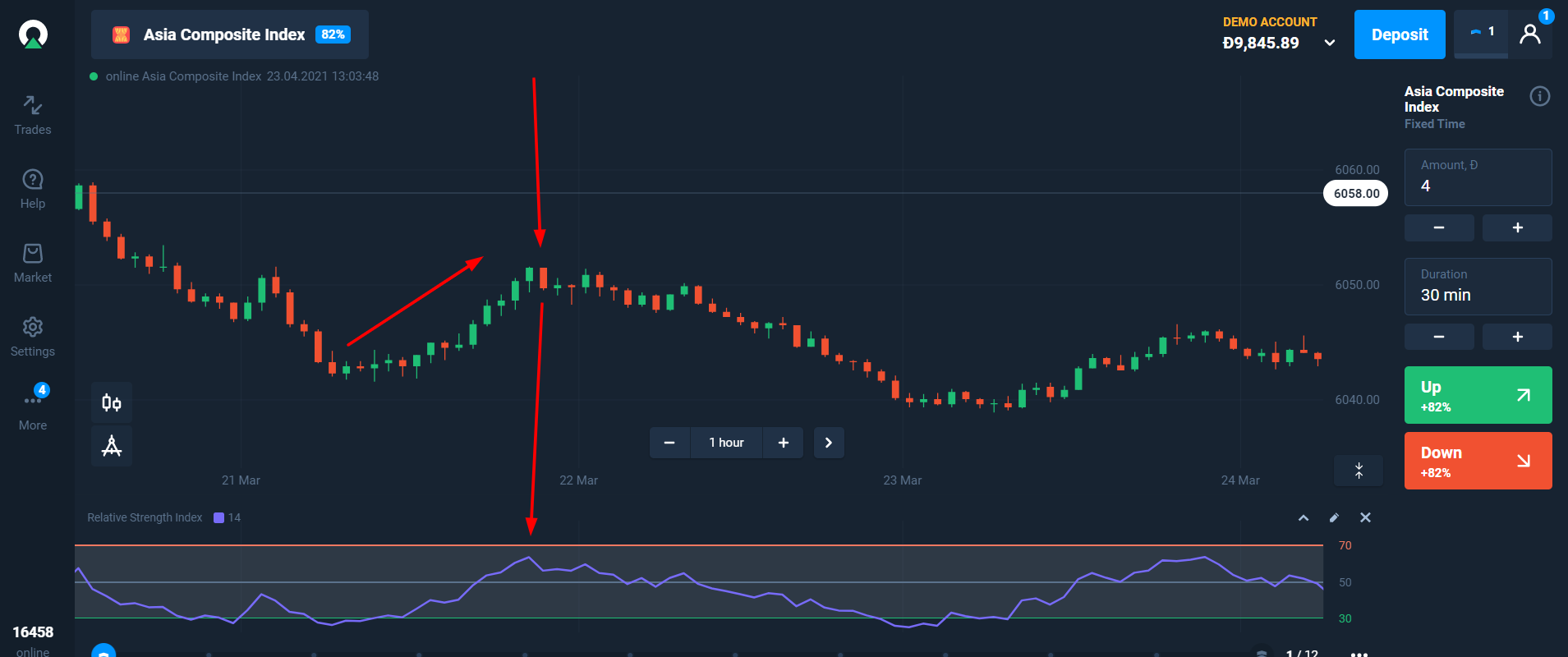 As we can see a good uptrend and later a strong Red candle appears plus RSI shows an overbought level here, we can take a SELL call.
Given above is the perfect example of the Bearish Engulfing pattern.
At first, we can see a good uptrend and later a bearish engulfing pattern plus overbought level in RSI here, we can take three-four SELL calls and make a huge profit.
Read Next: How to use Bullish engulfing pattern to win big?
Winding Up:
So, this is the end of this article.
I hope you have found this article helpful.
So, trading with the Bearish Engulfing pattern is that easy.
Bearish Engulfing pattern is really profitable. but I will suggest you practice this strategy in the demo account for better results.
This article was all about How to trade with Bearish Engulfing pattern?, How to find Bearish Engulfing Candle?, What is Bearish Engulfing Candlestick?, Bearish Engulfing Chart link
Best of Luck 🙂