Try Olymp Trade Quick sign up & get extra rewards...
(Last Updated On: 5th January 2022)
Binary Options Winning Strategy: Hello Folks…In this article, I will teach you my personal Binary Options Strategy.
For this article, I am using Olymp Trade.
Recommended: Read Olymp Trade Complete Guide
If your broker is Iq Option, Binomo, Expert Option or any other broker you don't need to worry.
The strategy works the same for all.
So let's get started…..
Binary Options Winning Strategy
Okay, In this Section I will Tell you about my Olymp Trade Winning Strategy.
I Bet no one will ever tell you This easy trick…
Note: This Strategy gave me results it might work for you & may not I'm not responsible for your loss if any.
First of all, I assume you know the proper basics of candlesticks If you don't trust me no one in this world can help you actually.
I Personally use two indicators i.e
EMA
RSI
Stochastic that's it 
EMA
First of all Click on EMA Twice and set one as 200 & other as 100 and choose a different colour for more clarity (See Image below).
How to use it?
It's that simple if the yellow line (200 EMA) crosses and is above the blue line (100 EMA) then the market is in an upward trend so go for BUY TRADE & vice versa.
However, Also do consider RSI before placing a trade.
RSI
RSI is my favourite Indicator and it is the most simple & most accurate indicator in my experience.
How to use it?
Go to Indicator and click on RSI and keep it to 14 only.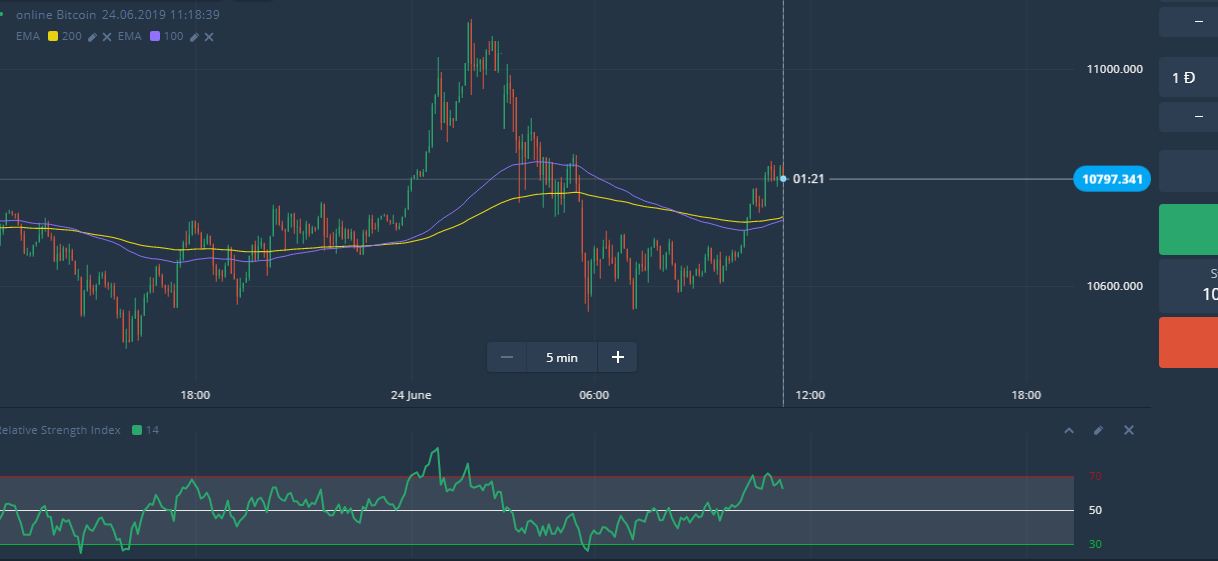 You will see something like this..
Well, let me tell you some basics of RSI first please do note it down.
Overbought: If that line crosses 70 then the market is at the overbought situation.
This level usually indicates the best price level has already reached and indicates the end of the UP trend
Characteristics of Overbought:
At overbought level
Buyers get excited
Demand is most probably going to decrease
Price may decrease
At the overbought level, we should always place SELL TRADE as it indicates Down Trend.
Oversold: If the line crosses 30 then the market is in an oversold situation.
Similarly, Oversold usually indicates the end of Downtrend & start of uptrend so we should place BUY TRADE there.
Characteristics of Oversold:
At Oversold level
Sellers get excited
Demand may increase
Price may Increase
At the oversold level, we should always place BUY TRADE as it indicates Up Trend.
Now, you must be asking what about that 50 right?
Well, 50 is most important actually as per golden rule of RSI.
If the line comes Overbought level and crosses 50 then most probably it indicates Downtrend so we should place SELL TRADE there.
***************************************************************
If the line comes oversold level and crosses 50 then most probably it indicates Uptrend so we should place BUY TRADE there.
As I said it helps to predict you can't Blindly trust this
Sees my stats below after using this trick Please do start with small trades like $1 to try this and keep practising it.
Stochastic
Last but not least is Stochastic if you know how to use Stochastic & RSI together Trust me!!! you will minimize the loss to almost zero.
So, you must be excited to know how to use it.. well, it's damn simple.
If Green Line is above or is in a rising position go for BUY Trade 
If Red Line is more clear & is in a falling position go for SELL Trade as simple as that.
To Gain more success look both at RSI & Stochastic if both agree on Bullish pattern go for BUY Trade & vice versa.